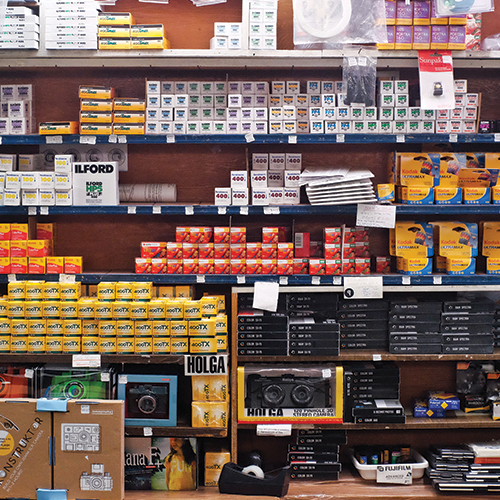 In business since 1899, Central Camera Company is a 3rd generation, family owned, photographic emporium. In our retail space located in the Chicago Loop, in our online shop, and at our eBay Store, we offer everything the photographer needs from cameras and lenses to memory cards and darkroom equipment. We are an authorized US dealer of dozens of brands including Leica, Nikon, Ricoh Pentax, Fujifilm, Bogen, and Gitzo.
Central Camera is proud to be an eBay Gold Level Power Seller and continues to expand our business. Take a look at our positive feedback rating and you will see that our eBay store is merely an extension of our retail store and you can expect the same level of quality, customer service, and satisfaction. Thanks for checking us out today, and we hope you will return often since we list new and special items regularly. Be sure to add us to your favorites list!
Central Camera Company has a history of tradition, service, and dedication to our customers . . . Founded in 1899, Central Camera is owned and operated by its 3rd generation.
Albert Flesch left his native Hungary to come to Chicago alone when he was 13. Albert carried not only much of his family's hopes, but he also carried a small red diary with him on the trip. In his diary, he tells of buying a new winter coat and visiting relatives on the day of his departure. He describes the life on board ship and his arrival in Chicago, where he went to live with an uncle.
Years later, Albert Flesch started his work career in the camera department of Siegel-Cooper, one of the large downtown department stores of its day.
With this initiation to photography, he opened Central Camera in a storefront at 31 E. Adams St. in 1899.
The 1893 Columbian Exposition put Chicago on the map as an international city. By 1899, downtown Chicago already had staked its growth on vertical construction with the first generation of skyscrapers such as architect Louis Sullivan's Auditorium Theatre Building at 430 S. Michigan Ave; and the Elevated tracks already defined the "LOOP".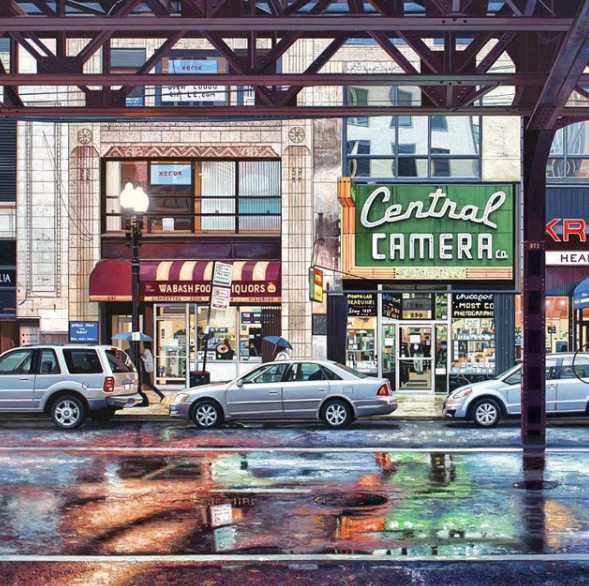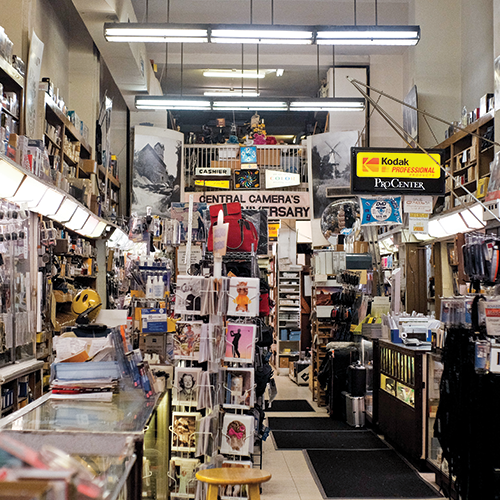 But the Gay '90s had their downside, too. They brought severe depression to the country and the city. The labor dispute that resulted in the bitter Pullman Strike in Chicago halted the trains nationwide, and President Grover Cleveland sent the U.S. Cavalry to escort trains from the city.
The year of Central Camera's founding marked the 60th anniversary of the invention of photography. George Eastman had revolutionized the market with easy-to-operate Kodak box cameras, first introduced in 1888. Albert Flesch offered the innovative service of commercial developing and print processing at his store in 1900 and also introduced a mail-order catalogue. Central Camera prospered and, after a move to another location on Wabash Avenue, settled in 1929 at its present location, in what had been a piano store.
Albert's two sons, Stanley and Harold, had started in the business by then. Albert Flesch had a heart attack and died in 1933 at the age of 56. Together Stanley and Harold branched into new areas such as Albert Specialty Co., a manufacturing business that made tripods and other equipment, which was disbanded in the late 1950's. Harold's son Albert "Don" Flesch, the current owner, started working in the store as a schoolboy in the 1950s.